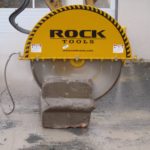 The Rock Tools' Concrete Saw is designed for the excavation of the hardest concrete, and will even cut concrete with rebar. This concrete cutting saw easily attaches to your excavator or skid steer in minutes, providing quick and effective concrete cutting. More specifications.
Our Rock Saw is our most rugged saw, suitable for excavation, quarrying and trenching as well as pipe and cable laying. This superior blade will cut some of the hardest sedimentary rock, without the need of water for cooling. The compact and versatile saw can cut vertically and horizontally. Easily attaches within minutes. More specifications.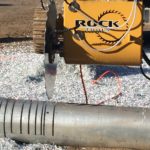 Our Tungsten Carbide Tipped (TCT) metal saw can cut ferrous and non-ferrous metal, such as copper, steel and aluminum. This high precision blade can also be used in recycling, scrap and smelter applications, and is a safe alternative to handheld application. More specifications.
Rock Tools' Carborundum saw can be used for cutting cast iron or steel. This versatile saw will tackle tough metal applications easily. It can be lowered into a trench or safely elevated; eliminating the need for dangerous hand-held saws. More specifications.
Rock Tools can help you with a range of Skid Steer attachments. Our saw extensions allow standard and high-flow skid steers to operate our concrete cutter and demolition saw blades.
Read more.
Rock Tools Attachments' products are completely customizable. Read more about how we can adapt our products, or contact us with your project details and we will develop a product for you.
See our image gallery of rock and concrete saws for excavators.