Drum Cutter Attachment for cutting or grinding rock, concrete, asphalt, and more.
The right drum cutter attachment can help you drastically improve your construction experience.
Powerful High Torque, Low Impact, Hydraulic Rock Grinders
Our rock grinder technology means our drum cutters can be used in environmentally sensitive areas, such as adjacent gas lines or near structures where minimal vibration is critical.
Rock Tools Drum Cutters bring productivity to otherwise inaccessible and or difficult areas with precise and accurate work.
Our excavator hydraulic rock grinder attachments are used for:
Rock & Concrete Grinding
Demolition
Tunneling & Trenching
Mining
Scaling
Permafrost
Dredging Underwater
Pile Head Cutting
Rock Scabbling
Foundation Excavation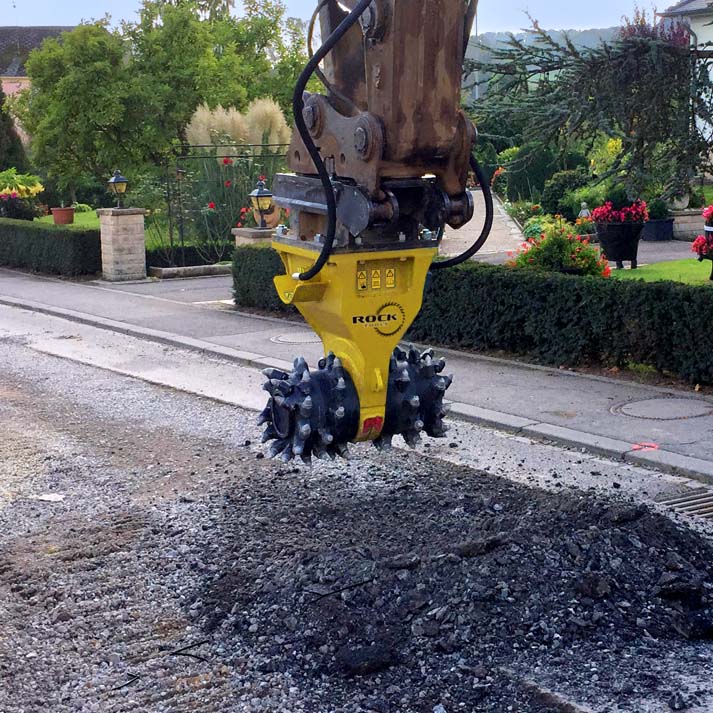 Excavator Drum Cutter Attachments Sizes & Specifications
Model
Excavator class
(tons)
Drum diameter
(inch)(mm)

Drum spacing
(inch)(mm)
Cut width
(inch)(mm)
Hydraulic flow
(Gal/min)(L/min)
Dimensions (Height x Width x Depth)
(in)(cm)
Weight
(lbs)(kg)
G10
5 - 15

16.54420
4.06103
29.13740
16-2960-110
32 x 29 x 1880 x 74 x 46
847381
G15
12 - 20

16.93430
4.65118
29.13740
26-3599-132
33 x 25 x 1883 x 63 x 46
1300585
G20
18 - 30

25.59650
5.63143
41.731060
37-55140-210
45 x 42 x 28115 x 106 x 71
28891300
G30
25 - 40

26.57675
5.63143
45.471155
70-122265-460
46 x 46 x 28117 x 116 x 70
30221360
We are ready to help you choose the right Excavator Rock Grinder for your job.

4 Models
Four drum cutter attachment models are available, and mounts to fit most excavators and skid steers.
Underwater
Easily find and remove any necessary waste and minimize the materials that need to be transferred away from the site.

Low Impact
Our technology enables you to use our rock grinders in environmentally sensitive areas where minimal vibration is critical.

High Torque
Our rock grinders' hydraulic motor offers immense breakthrough force to cut rock, concrete, or frozen ground
Drum Cutter Attachment for cutting or grinding rock, concrete, asphalt, and more.
Our rock grinders allow you to cut down multiple types of materials so you don't need to haul anything off-site to be crushed.
Our rock grinder attachment will leave a clean path with its precision grinding making it the perfect tool for trenching into concrete. Our rock and concrete grinders are available based on the size and flow of your skid steer or excavator.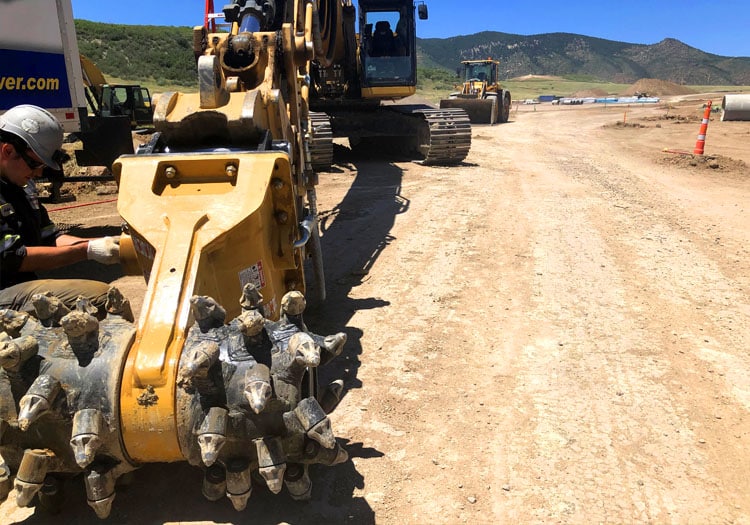 How do you choose the right excavator Drum Cutter Attachment?
When choosing a rock grinder, you will want to consider the size of your project and the horsepower that you will require to meet these needs.
Ask yourself these questions:
• What kind of project are you taking on?
• What type of materials will you be cutting?
• Which grinder is the most cost-effective decision for your needs?
Based on the needs of your project, we can help you to choose the most effective rock grinder option to reduce costs and increase efficiency. Don't hesitate to contact us for a free consultation!
Check out our excavator rock grinder attachments in action with these feature projects.
Fill out the form below to receive a pdf of our sales sheet to share with your team members or decision-makers.
Contact Rock Tools Attachments Today. We Ship Our Excavator Drum Cutters Worldwide.
Whether you are looking for an excavator drum cutter attachment for a skid steer or a larger excavator, our dedicated sales team will provide excellent customer care. The connection end can be customized to fit your skid steer or excavator.
Get the right excavator drum cutter attachment your project requires to get the job done quickly and efficiently while saving your company time and money. Give us a call and speak to someone here in Colorado. We ship worldwide.